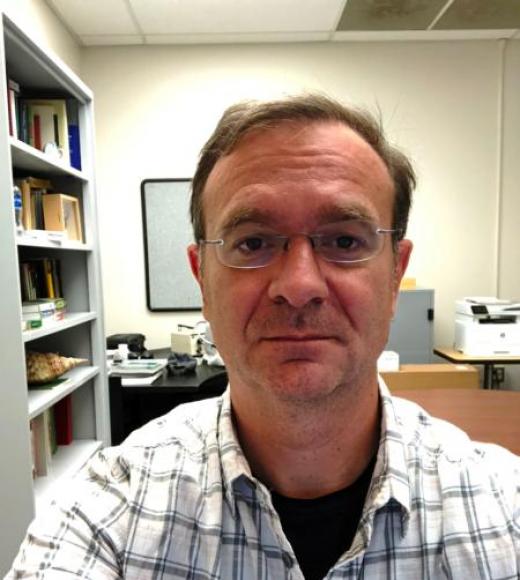 Position Title

Schlinger Chair in Insect Systematics
Academic Surge Building 1282
Bio
Biography: Dr. Bond is a professor in the Department of Entomology and Nematology who specializes in the questions related to the evolutionary diversification of terrestrial arthropods (specifically spiders, millipedes, and tenebrionid beetles). Jason obtained his B.S. degree in Biology at Western Carolina University before completing his PhD in Evolutionary Systematics and Genetics at Virginia Tech in 1999. Prior to joining the UC Davis faculty in 2018, Bond served as the Director of the Auburn University Museum of Natural History and Chair of the Department of Biological Sciences (Auburn University).
Research Interests: Systematics, taxonomy, and evolution of terrestrial arthropods with an emphasis on arachnids and myriapods. We employ molecular, morphological, and ecological approaches to study questions related to evolutionary diversification at multiple hierarchical levels (populations – higher taxa).
Lab Overview: The primary focus of my research program is the discovery, conservation, and investigation of the pattern and processes responsible for the diversity of life.  My research program has been principally aimed to 1) document biodiversity by discovering and describing new species (and higher taxa, genera and families), 2) identify various dimensions of diversity and those underlying evolutionary processes that generate it, and 3) use these findings to identify threatened or endangered populations and taxa.  My organismal expertise centers on terrestrial arthropods (spiders, millipedes, and tenebrionid beetles).  Current research projects focus on spider and beetle speciation pattern and process, higher level phylogenomics of millipedes and spiders, and understanding broad-scale patterns of biodiversity and relationship to biogeography, habitat destruction, and climate (contemporary and historical).
Selected Publications:
Lamb T, M Brewer, P Moler, JE Bond. 2018. A biogeographic profile of the sand cockroach Arenivaga floridensis and its bearing on origin hypotheses for Florida scrub biota. Ecology and Evolution, 8: 5254–5266. https://doi.org/10.1002/ece3.3885.
Godwin, R, V Opatova, N Garrison, CA Hamilton, JE Bond. 2018. Phylogeny of a cosmopolitan family of morphologically conserved trapdoor spiders (Mygalomorphae, Ctenizidae) using Anchored Hybrid Enrichment, with a description of the new family, Halonoproctidae Molecular Phylogenetics and Evolution, 126: 303-313. https://doi.org/10.1016/j.ympev.2018.04.008.
Rodriguez J, TH Jones, P Sierwald, PE Marek, WA Shear, M Brewer, KM Kocot, JE Bond. 2018. Step-wise evolution of complex chemical defenses in millipedes: a phylogenomic approach. Scientific Reports, 8: 3209 (1-10). https://doi.org/10.1038/s41598-018-19996-6.
Hedin, M, S Derkarabetian, MJ Ramirez, C Vink, JE Bond. 2018. Phylogenomic reclassification of highly venomous Sydney funnel-web spiders and kin (Mygalomorphae, Atracinae), with implications for venom evolution. Scientific Reports, 8: 1636 (1-7). https://doi.org/10.1038/s41598-018-19946-2
Wheeler WC, JA Coddington, LM Crowley, D Dimitrov, PA Goloboff, CE Griswold, G Hormiga, L Prendini, MJ Ramírez, P Sierwald, LAlmeida-Silvae, F Alvarez-Padillae, MA Arnedo, LR Benavides Silva, SP Benjamin, JE Bond, CJ Grismado, E Hasan, M Hedin, MA Izquierdo, FM Labarque, J Ledford, L Lopardo, WP Maddison, JA Miller, LN Piacentin, NI Platnick, D Polotow, D Silva-Dávilae, N Scharff, T Szuts, D Ubick, CJ Vink, HM Wood, J Zhang. 2017. The spider tree of life: Phylogeny of Araneae based on target-gene analyses from an extensive taxon sampling. Cladistics, 33: 574-616. https://doi.org/10.1111/cla.12182
Hamilton CA, BE Hendrixson, JE Bond§. 2016. Taxonomic revision of the tarantula genus AphonopelmaPocock, 1901 (Araneae, Mygalomorphae, Theraphosidae) within the United States. Zookeys, 560: 1-340. https://doi.org/10.3897/zookeys.560.6264
Hamilton CA, AR Lemmon, EM Lemmon, JE Bond. 2016. Expanding Anchored Enrichment to resolve both deep and shallow relationships within the spider Tree of Life. BMC Evolutionary Biology, 16:212, 1-20. https://doi.org/10.1186/s12862-016-0769-y
Garrison NL, Rodriguez J, Agnarsson I, Coddington JA, Griswold CE, Hamilton CA, Hedin M, Kocot KM, Ledford JM, Bond JE. 2016. Spider phylogenomics: untangling the Spider Tree of Life. PeerJ 4:e1719, 1-35. https://doi.org/10.7717/peerj.1719
Bond JE, NL Garrison, CA Hamilton, RL Godwin, M Hedin, I Agnarsson.  2014. Phylogenomics: Resolves a Spider Backbone Phylogeny and Rejects a Prevailing Paradigm for Orb Web Evolution. Current Biology, 24: 1765-1771.  https://doi.org/10.1016/j.cub.2014.06.034
Bond JE. 2012. Phylogenetic treatment and taxonomic revision of the trapdoor spider genus AptostichusSimon (Araneae, Mygalomorphae, Euctenizidae). ZooKeys 252: 1-209. doi: https://doi.org/10.3897/zookeys.252.3588
Tags