New Students
Welcome to UC Davis! Are you interested in pursuing a major in Entomology? The curriculum is designed to develop an understanding of fundamental biological concepts by studying insects. Insects offer unique opportunities to study biological systems and are model experimental animals. Many insects are either pests, or beneficial species that have great importance to the economy, environment or public health. Students may focus on specific areas of interest including agricultural entomology, insect systematics and evolution; behavior and ecology; medical entomology; and insect molecular biology, physiology and toxicology.
Are you a Freshman Student? Click here - Freshmen Students
Are you a Transfer Student? Click here - Transfer Students
---
Schedule Builder Tips!
Academic Plans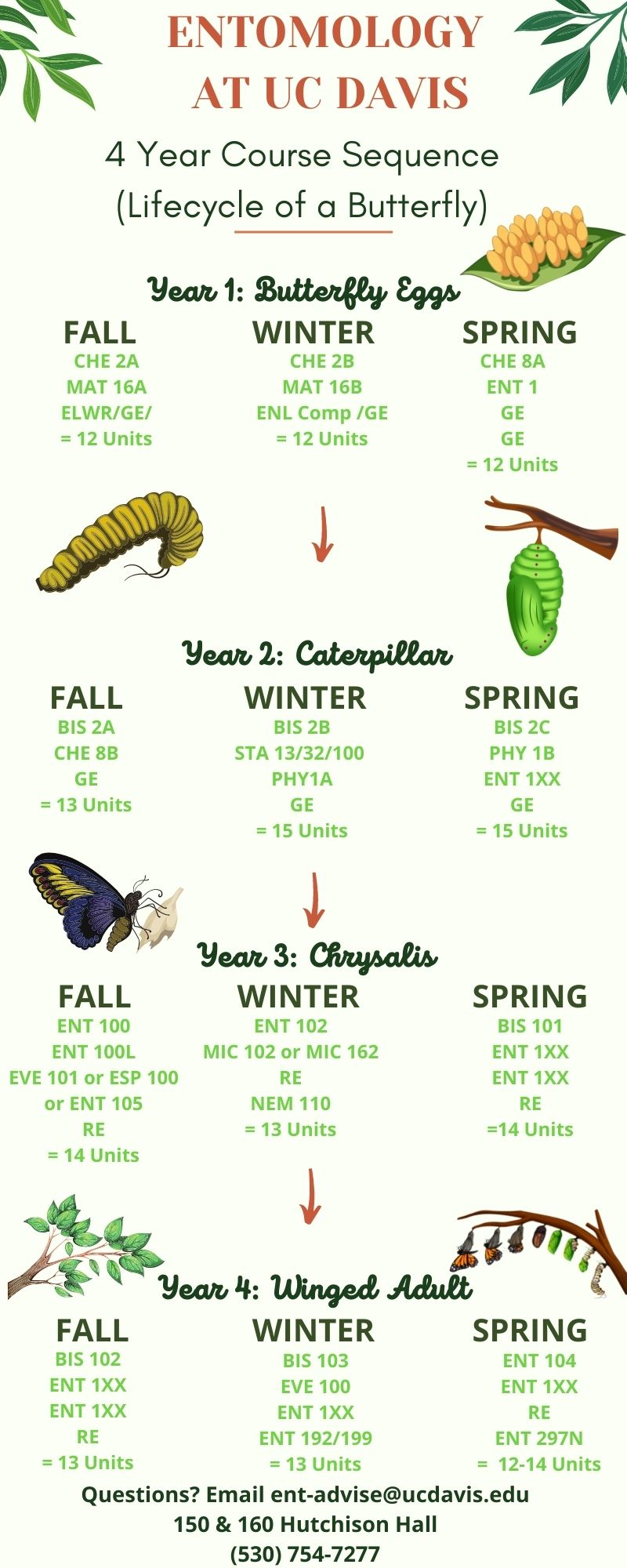 Academic Plans
See the infographic to the right for an idea of how to plan your schedule for the next couple of years at UC Davis. Click here for an Academic Plan. 
Waitlisting for a Course
If a class is full and closed, students can place themselves on a wait list using Schedule Builder. Wait lists are established on a first-come, first-serve basis. Waitlisting begins during Pass 2 registration appointments and end after the 12th day of instruction.  
Placement Tests
All students who register in CHE2A/CHE2AH, MAT 12, 16A, 17A, 21A or 21M  are required to satisfy the Placement Requirement. Student who do not satisfy the placement requirement to remain enrolled in general chemistry will be administratively dropped from the course by the Department of Chemistry and Department of Mathematics. More information for both tests can be found on the linked department websites. 
Tip: Mandatory First Day Attendance 
Departments and other academic courses may require first day attendance in impacted courses. The courses that do require first day attendance will note this in the Class Search Tool. Some courses to pay attention to are Biological Sciences (BIS) and Chemistry (CHE). Their lab and discussion sections require first day attendance. Failure to attend the first lab and/or discussion will result in the course automatically dropping you from registration. 
College of Agriculture & Environmental Science English Composition Requirements
3 Ways to Satisfy:
(1) Two courses emphasizing writing or speaking skills:

One course:

Chosen from English (ENL) 3, University Writing Program 1, 18, 19, 101, 102 series, 104 series, or Nematology 150

One course:

Another chosen from the list above

Or chosen from: Comparative Literature 1, 2, 3, 4 or Native American Studies 5

AP Credit & One Writing/Speaking Course

Advanced Placement English score of 4 or 5 PLUS any course listed in 1 (a) or 1 (b) above EXCEPT UWP 1 or ENL 3.

(3) By successfully passing the English Composition Examination administered by the College of Letters and Science upon completion of 70 units of degree credit (the examination does not yield credit).
Ways to Get Involved!
Entomology Club
Entomology Cub at UC Davis is one of the oldest clubs on campus! This club is specifically for insect lovers. Every quarter, they go on collecting trips, hikes, camping trips, outreach events, and every now and then they watch terrible insect related movies.
Contact entomologyclub@gmail.com to get more information and hear about their cool events on their listserv!
First Year Aggie Connection!
First Year Aggie Connection is a great way to build community and get to know UC Davis! All incoming first-year freshman and transfer students, including international students, will have the opportunity to participate in this program. Each connection is led by a staff or faculty facilitator and a peer mentor who aims to support students in the transition to college. For an extensive list of the available connections, visit the Office of Educational Opportunity and Enrichment Services!
Career Discovery Group
Career Discovery Groups give freshman and first-year transfer students an opportunity to explore career possibilities and make academic choices for future success. CDG provide you with special classes and a mentor to introduce you to campus resources, to help you explore potential career paths, and to guide you with course selection. It's also a great way to build community with your fellow Aggies!
For more information, check out the Career Discovery Groups website or email caesadvising@ucdavis.edu for questions!
How to Receive Research/Internship Credit
After obtaining a research position with a lab, you can fill out this variable-unit form.

Submit your form before the 15th day of instruction of the quarter you're conducting research/completing an internship to receive the Course Registration Number (CRN)

You'll receive an email confirmation and a CRN which you can input into Schedule Builder to register for the 199/192 course.

On Schedule builder, when you Search ENT 192/199 and save the course to your schedule, it will prompt you to input a CRN.
Research & Internships
Our students have the wonderful opportunity to work with Entomology professors who are at the top of their field. Our resources like the Vector Genetics Lab, the Haagen-Dazs Bee Research Facility, and the Bohart Museum allow our students room to diversify, network, and gain experiences.
Click here to view our professors' research labs.
You can have the opportunity not only develop your research experience but also earn units toward Upper Division Entomology and Restricted Electives requirements.
Research Scholars Program in Insect Biology
UC Davis is a big university, with a strong focus on research.  Undergraduates can easily feel like they are lost in the crowd, and rarely get close mentorship from faculty or other research staff (how can you, when your classes have hundreds of students present?).  And yet, some of the most important skills for research biologists cannot be taught in big lecture halls or even in lab courses; these skills, especially those linked to conducting cutting-edge research are best learned through close mentoring relationships with faculty, and through an opportunity to do research (try it, make mistakes, learn from those mistakes, and get it right the next time).
The Research Scholars Program in Insect Biology aims to provide undergraduates with a closely-mentored research experience in biology.  Because insects can be used as model systems to explore virtually any area of biology (population biology; behavior and ecology; biodiversity and evolutionary ecology; agroecology; genetics and molecular biology; biochemistry and physiology; cell biology), faculty in the program can provide research opportunities across the full sweep of biology.  The program's goal is to provide academically strong and highly motivated undergraduates with a multi-year research experience that cultivates skills that will prepare them for a career in biological research. The program begins with students in their 1st and 2nd undergraduate years.  Our goal is to develop a long-term mentoring relationship for students, to extend until the completion of the undergraduate program (usually 2 to 3 years).
For more information about the program, visit the Research Scholars Program in Insect Biology website.